How to block Quora ads
How to block ads on Instagram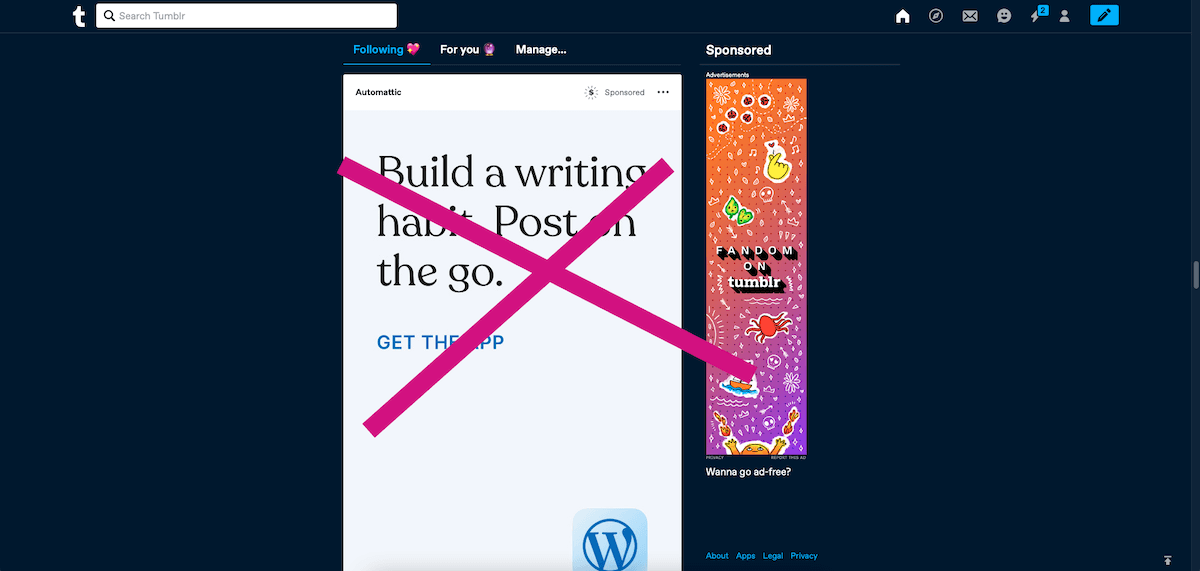 Tumblr is a fascinating microblogging platform where you can share photos and videos and blog about everything. However, over the past decade, Tumblr has moved from being the most incredible platform into an annoying one crammed to overwhelming levels with ads. Bad Tumblr ads have subsequently become memes, as users cannot help but share screenshots of hilarious ads on the platform. 
The problem with ads on Tumblr is that they are intrusive and annoying. Ads have replaced almost every blog and post on Tumblr. So it's harder to have fun or enjoy intriguing content on Tumblr. Fortunately, if you are looking for how to get rid of Tumblr ads, there is a way you can eliminate those ads from your feed.
How to get rid of Tumblr ads
When considering how to block Tumblr ads, the first method that comes to mind is subscribing to Tumblr ad-free subscription tier. But like every other platform, it requires that you fork up some cash. To use Tumblr ad-free, you need to shell out $4.99 monthly or pay $39.99 for the entire year at a 33% discount. However, enjoying your microblogging platform without disrupting ads is tempting; shelling out about $40 to stop these ads may seem over the top to some people. 
There is a better and cheaper way...
Using BlockZilla to block Tumblr ads
Alternatively, you can enjoy a more affordable and reliable way to block ads on Tumblr. BlockZilla works entirely on desktops through browsers like Firefox, Yandex, Vivaldi, Opera, Edge, Firefox, and Chrome. Thanks to BlockZilla, you can block Tumblr ads and enjoy an ad-free surfing experience effortlessly. 
One unique reason BlockZilla stands out is that this browser extension helps eliminate ads from many other websites, including Reddit, Quora, Twitter and more. So instead of paying for premium subscriptions on all of these platforms, you only have to get BlockZilla and block ads on all platforms. Here's the perfect way to surf the internet without pesky ads while saving tons of money. 
What are the Benefits of Blocking Ads on Tumblr
Blocking ads on Tumblr is an excellent way to eliminate distractions when surfing Tumblr. Some ads aren't just pesky; they are downright intrusive and repetitive. Picture what happens when you see the same Amazon Kindle ad every two to three posts. With advertisements out of the way, you can read articles, watch videos and become deeply immersed in your timeline without interruptions. Blocking ads helps you remain focused, thereby enhancing your surfing pleasure. 
Blocking ads on Tumblr is an advantageous system that equally helps you avoid all those poorly developed advertisements that only make you angry. When you don't have to deal with ads, you can gain control over the kind of information you are exposed to and avoid topics you find inappropriate without any hassles. 
Will I Still be Able to See My Tumblr Timeline and posts?
Blocking Ads through BlockZilla won't negatively affect your Tumblr timeline and post. You can still enjoy all the content you love on Tumblr without all forms of sponsored posts, ads, and likes. It is the ideal way to eliminate distractions, so you can enjoy how you interact on Tumblr.