How to block Dribbble ads
How to get rid of Tumblr ads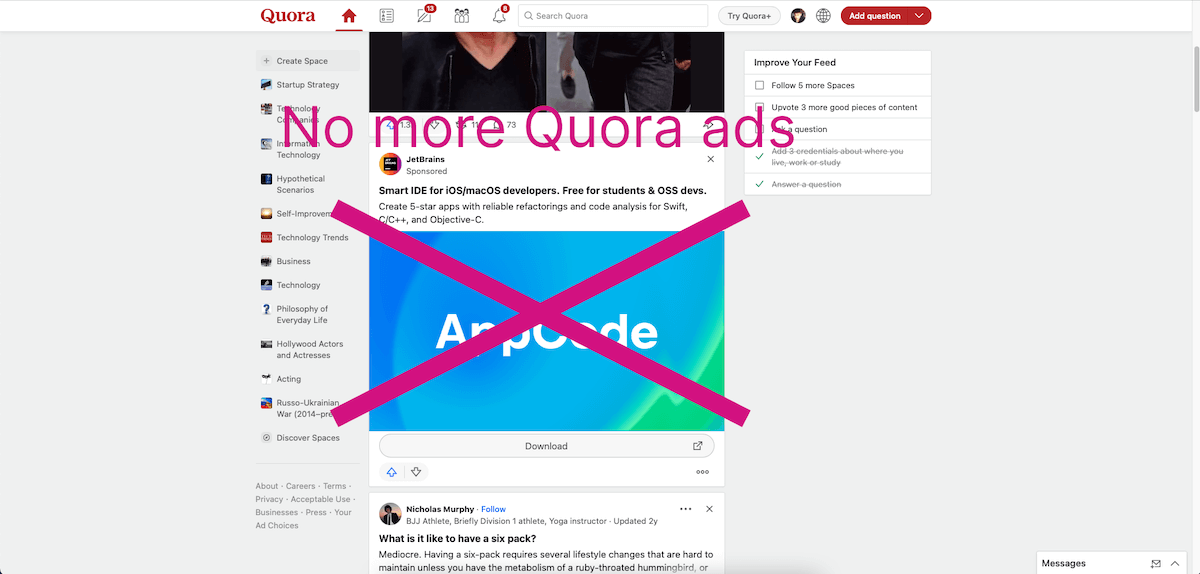 When Quora began in 2009, the platform quickly gained a reputation for crowdsourcing the best solutions to questions based on the Questions & Answer engine of highly engaged enthusiasts. Fast-forward to 2017, Quora introduced the advertising side of the business, forever changing the landscape. 
Today, when you browse through Quora in search of answers to mind-boggling questions, there's always a persistent ad that pops out of the picture, often unrelated to your question. Sometimes these ads find their way directly under relevant responses to questions, creating confusion, as you cannot tell if you are looking at an ad until you've finished reading or watching it.  If you are looking for insights on how to block Quora ads, then this article is for you.
Using BlockZilla to block Quora ads
When searching for how to block Quora ads, look no further than BlockZilla. BlockZilla is a powerful ad blocker that works only on desktops and is compatible with various browsers, including Chrome, Edge, Firefox, Vivaldi, Yandex, and more. Furthermore, without BlockZilla, you may have to purchase premium subscriptions on Quora alongside other platforms like Reddit and Tumblr. 
With every premium subscription, your bills increase as you search for the best way to enjoy different websites without Ads. Hence, BlockZilla saves you tons of money as you no longer need these premium subscriptions. All you need to do is install Blockzilla and watch as it works across open webpages, shutting and blocking ads. 
What are the Benefits of Blocking Ads on Quora
We spend hours surfing on Quora in a quest for raw answers to critical questions boggling our minds. Unfortunately, it's easy to become distracted by ads that have nothing to do with the questions or are even related to the topics we were targeting. 
When distracted, it becomes challenging to focus on getting those answers that impact our lives in one way or another. These intrusive ads also find their way into our feeds, topic feeds, and question pages. Sometimes, ads show at the top of feeds before tailored responses to your question, disrupting your information-gathering experience. Undoubtedly, Quora also sometimes offers the option to hide specific ads in the future, but it would still push tons of intrusive ads in your direction. So the option to hide particular ads is in no way the same as disabling advertisements on Quora.
Thanks to BlockZilla, we can completely eliminate all Quora ads, including image ads, text ads, promoted answers, and many more. BlockZilla is a powerful ad blocker that carefully and methodically filters all kinds of promotional content from our feed. With BlockZilla, you can control the type of information you wish to see, further improving your focus and productivity. 
Will I Still be Able to See all posts on Quora?
Yes, you will still see all Quora's posts and feeds you are interested in. The only thing missing from the equation would be all kinds of Quora ads.